Testimonials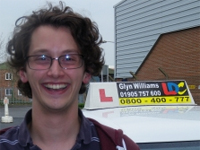 Mike - Worcester
Passed at my first attempt!
Personally I never really wanted to learn to drive; it always seemed like an impossible skill to master, until I met Glyn. His passion for driving rubs off on you. I now enjoy driving and enjoyed learning thanks to Glyn's brilliant way of teaching. He's methodical, understanding, his tips are fantastic and of course he's patient. When you are taught by Glyn you'll surpass the driving ability which is required for your test, so when you take your test you know you can be confident! The LDC Materials (Workbook and DVD) are a worthy investment. If you are ever in doubt you can have a read in your workbook or if it's something a bit more complicated like manoeuvres then you can use the DVD. Also if you do some revision before your next lesson then it will mean more time on the road!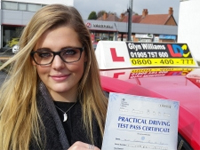 Lien - Rushock
Glyn was calm and encouraging, and knew exactly what he was doing, which made me feel comfortable on the road. I was really impressed with his teaching, and have already recommended him to a number of people. Glyn's methodical teaching style has made me feel super confident when I drive on my own, which I am really pleased about. To top it all off I passed first time! Thank you Glyn.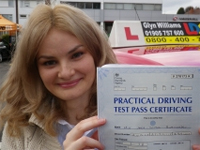 Anca - Bromsgrove
I would highly recommend Glyn to anyone as a driving instructor. He is a fantastic teacher with a lot of experience and helpful tips, a very supportive and patient man. Before my driving with Glyn, I took lessons with 2 instructors but I felt I was not getting anywhere because there was no progress in my driving. I contacted Glyn and booked an intensive course (which I also highly recommend to those who wish to pass the test faster) and in less than one month I passed the test. Thank you Glyn for all your help.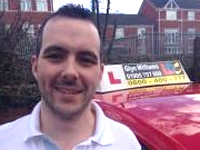 Ben - Bromsgrove
A big thanks to Glyn for guiding me through my driving test. His calm yet fun personality made learning to drive a lot easier and really helped with my nerves. I thought I would never pass but Glyn got rid of the doubt and showed me I could conquer my nerves. Thank u Glyn, if any of my friends or family need to learn to drive I will be sending them you're way.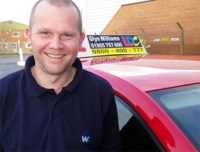 Matt - Worcester
Very impressed with the way Glyn teaches, very friendly and notices everything! I passed first time!!! I would recommend Glyn for driving lessons to anybody that ever asks me in the future! Thank you Glyn!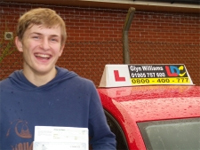 John - Himbleton
Learning to drive with Glyn was undoubtedly a brilliant choice for learning to drive. Glyn would say that "yes we are in a little red fire truck, but we're not racing to a fire. Being a racy young lad Glyn taught me to slow down and yet going quicker, especially at roundabouts.
Glyn never stopped saying "give it the beans" or "make hay while the sun shines", thus not getting to drive with excessive speed but to crack on with it. His wisdom from years on the road, undoubtedly accelerated my learning and developed me as a driver so that I was not only able to pass the driving test [first attempt!] but also to be a good driver. Thanks for persisting with me!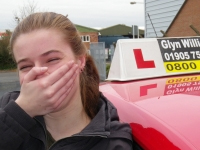 Kate - Worcester
Driving wasn't something that came quickly or easily to me, like a lot of people I know. Learning with Glyn gave me the confidence to take my test, and Glyn's patience and positive attitude stuck throughout until I finally passed! I found learning with Glyn easy and suited to what I needed to do. Glyn kept lessons flexible and structured when they needed to be and I do not think I could've passed my test with out him.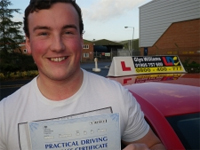 Dominic - Shelsley Beauchamp
With the course I felt that it was well laid out and focused on the main aspects well. As for the progression of the course I felt that it fitted in with my growing abilities as a driver and that there was never a massive jump up in the manoeuvres, I was never rushed into doing anything that I wasn't fully confident in doing. As an instructor Glyn is a perfectionist, he'd never let me slack in my driving and would pick up on the smallest of details and this helped with my progression as well.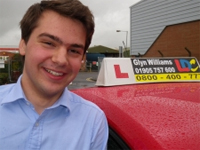 Harry - Droitwich Spa
Despite being a little reluctant to start driving, Glyn's friendly and enthusiastic manner ensured that I overcame my cynicism and enjoyed driving. He is patient and easy going; just the right approach, in my opinion.
I was particularly impressed with Glyn's punctuality; he has never arrived late at the start of a lesson and is often early. The lessons themselves are of a good length, allowing you to cover a number of skills and ensuring that they are practiced effectively. New topics were introduced thoroughly and clearly, and extra information regarding the mechanics of the car helped to better understand driving.
My confidence in driving has improved significantly thanks to driving with Glyn, and I recommend him wholeheartedly.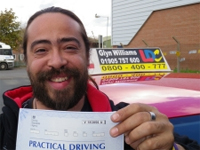 Mike - Malvern
I am very pleased with the outcome of the driving experience. Glyn takes everything in consideration since I drove in the U.S., and is very patient. Glyn makes you feel confident about driving and will help you with everything and any weaknesses that you might have and help you to improve them. Overall Glyn is a great instructor and I would recommend him to anyone that is learning to drive. Thanks for the great experience.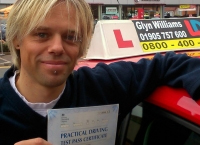 Andre - Bromsgrove
Glyn is a well mannered, highly intelligent, very patient gent who is 100% focused on his job and getting his students safely on the road; he talks driving and you do driving! Even though I had driven before many years ago I found following the LDC driving skills course very thorough and clear to understand and with Glyn's help and guidance you can't go wrong. You don't stick to a set course of action either. Of course you'll cover all you need to learn but if you're feeling uncomfortable or weak in certain areas you can focus on those points more rather than keep repeating things you are comfortable with. He lets you choose what you want to do in your lessons until you're comfortable and happy with your own progress so you don't feel so stressed. Thanks for helping get me safely on the road Glyn; I would highly recommend you as a master of instructors!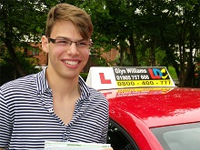 Alex - Barnt Green
The perfect mentor, Glyn combines a friendly atmosphere with a very well structured course, leaving you as the driver in no doubt as to the course of action to take through both improved confidence and skill. One thing to take away from his lessons is that you never stop learning to drive, and you only skim the surface of Glyn's deep wisdom and experience.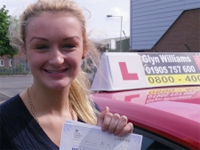 Steph - Hagley
Glyn is the perfect instructor to learn to drive with, his calm, humorous and intelligent manner suited my personality perfectly. His skilled guidance and persistence helped me to learn to drive in 18 lessons, and I now feel I am a confident, informed and progressed driver. The LDC system really helped me to analyse the situations thoroughly, it enabled me to reflect on the lessons and also aided my theory and questions I was unsure about. Glyn is the model driving instructor, and I would recommend him to all the people I know who want to learn to drive. Thank you Glyn for your time, your kindness, your good sense of humour and passing on your perfect driving skills. Give it the beans!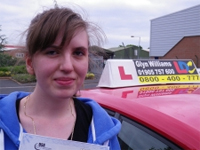 Amy - Droitwich Spa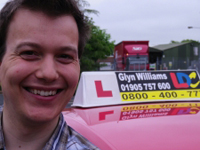 Chris - Droitwich Spa
I was a nervous student and I struggled with test pressure but Glyn was excellent at helping me through that. He is very good at understanding his students I think, and he is very patient which is what I needed. I have a technical job and as such I'm the sort of person who likes to understand the mechanics and theory behind everything. I have had instructors in the past who would tell me "do it this way because that's how its done". Glyn is very knowledgeable and was able to explain everything to me which helped me understand how to drive the car such that the mechanics of driving became second nature. The LDC driving skills material helped me understand the concepts and rules of the road before getting in the car, and again Glyn was good at explaining situations to me so I could learn and build experience not for the test but for driving on the road in the future. I think that was quite important, I learnt how to drive, and I feel confident and safe.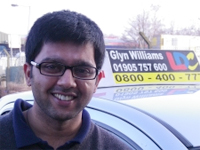 Praj - Warndon
I passed my test in India and needed to take the UK driving test - that's when I realised I had not 'learnt to drive' actually!
Glyn soon sorted that out and I 'learnt to drive' resulting in my first attempt to pass the UK test.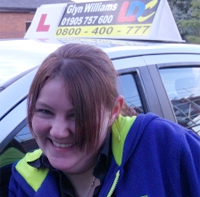 Kat - Droitwich Spa
Learning to drive with Glyn was a steady and enjoyable experience, the lessons were always structured to suit both my strengths and weaknesses. He was always very patient with me which must have been hard at times but it helped to know he wouldn't let me give up. I learnt a lot of things that have stayed with me since passing my test and am grateful for all the time he spent with me. Thanks Glyn! :)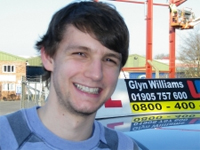 Chris - Worcester
I felt that Glyn created a calm environment throughout the driving lessons, and with the books step by step guide, helped thoroughly explain the key points to what is needed not only to pass the test but to become a good driver in the long run. The LDC book was a great addition to the lessons as it helped structure the lessons and create talking points, minimising time so I could get driving asap. Glyn's perception and experience helped me to feel safe and motivated during lessons, and his understanding of a learner drivers situation helped to ensure progress was made consistently when I stepped into the driving seat. Glyn is not only a driving instructor, he delegated and helped me initiate and look for the right answer to problems when they occurred enabling me to advance my driving ability further, stepping-in only in situations which required his immediate input. Without Glyn's supervision, safety, knowledge and understanding I feel it would have taken me a lot longer to become what I am now... A fully fledged safe driver and passed at my first attempt! Cheers Glyn!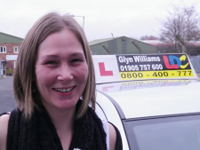 Kath - Kempsey
Thank you so much for all your help, support and encouragement. I never thought I would pass my test, let alone 1st. time as I struggle so much with self-confidence but you managed to make me believe in myself. I can't thank you enough. Kath.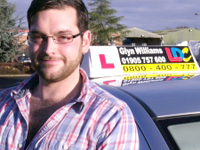 Billy - Droitwich Spa
As someone who has never driven before the thought of learning to drive was very daunting. Any worries I had disappeared the moment I met Glyn to organise a lesson package suitable to me around my erratic work schedule. Throughout my lessons I found Glyn's polite and calming attitude very reassuring. Glyn's relaxed and structured teaching style meant that I was driving on the roads confidently within no time at all. I found the LDC DVD and book to be really helpful in the early stages of the lessons as it meant by the time I was in the car for my lesson I already had an understanding of what I was going to be doing, it also enabled me to reflect on what I had learnt. Glyn's experience and coaching skills combined with the LDC structure has turned me into a confident, aware and qualified driver.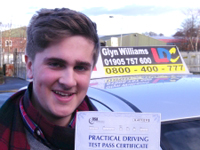 Bruce - Pershore
I was really pleased with the tuition I had from Glyn - relaxed, humorous, but at the same time always pushing me to do better and improve the things I was not so confident at. The LDC book and dvd were a big help in the early stages when trying to master things like roundabouts. Both Glyn and the LDC materials helped me pass first time.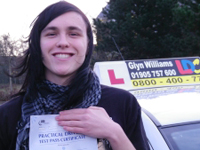 Josh - Droitwich Spa
I recently utilised the LDC driving course under Glyn Williams as it appealed to me more than using a generic driving scheme. There is little time pressure with no rush to complete tasks and no set amount of time before tests, thats' purely down to you putting you under no added pressure. LDC's biggest strength and ultimately the reason why I chose LDC is it's structure, ensuring all road skills and manoeuvres are covered physically in a complementary order to a required level, as well as being understood mentally with the aid of the LDC driving skills manual. I found this a vital feature of the course as it prevented me from potentially being a hazard to others relieving me of a fair amount of stress.
When I had my first session, like many others, I was nervous as I had never driven on the road with others before. Nervous was an understatement, but nevertheless I was safe, the scheme ensure highly skilled and expererienced [instructors] like Glyn Williams are employed, teaching and helping you every step of the way prepared to intervene at any point deemed necessary. Soon as my confidence grew and with Glyn's patience and help I began to grasp the skills I required to become a safe driver. In a relatively short space of time I had covered the course material and had passed my theory so began honing my skills in preparation for the dreaded driving test! Which, being assured by Glyn, I would not have been entered into if he did not believe I could pass. Glyn arrived on that day to pick me up to ensure I had some last minute driving and to run through the 'show me tell me' questions to calm my nerves and focus me. Though the nerves soon returned as my examiner entered the car, the skills Glyn helped me to acquire stuck enabling me to pass first attempt! I stand by my choice with the LDC course and Glyn as the logical choice, they enabled me to succeed and Glyn continued to teach and support me throughout which I know is not always the easiest of tasks."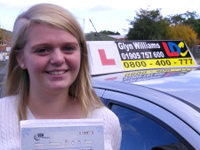 Emma - Harvington
I am glad I chose LDC to learn with; my brother and I have both been through the system and I really liked it. Glyn's patience and expert guidance, along with his good sense of humour led me through the process. I thoroughly enjoyed our lessons and now feel confident on the road by myself. The DVDs and workbook that come alongside the lessons were also very useful in helping with both my theory and practical skills. I would highly recommend Glyn and the LDC system to anyone wanting to learn to drive. I look forward to returning to LDC to complete my Pass Plus.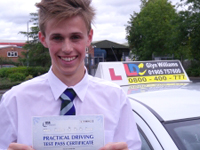 Johnny - Chaddesley Corbett
Passed 1st. Attempt!
Before starting with Glyn, I had only ever driven a car once and the progress that has been made with him in a relatively short space of time is incredible. The LDC system that Glyn uses is very good and has a good lesson by lesson plan via book or DVD to let you know what is coming up in the lesson. Glyn makes you a very confident driver and is very good at helping you correct mistakes that you make in your driving. I would highly recommend using Glyn as a driving instructor.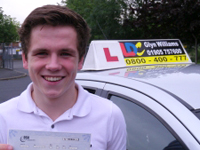 George - Shrawley
I really enjoyed the LDC driving course. Glyn is a meticulous teacher with a wealth of experience. Using the driving skills workbook enabled me to prepare before lessons and made best use of my driving time. I would definitely recommend Glyn.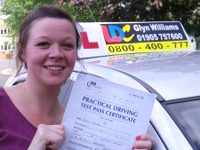 Carly - Worcester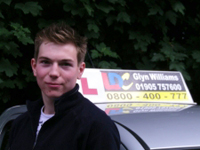 Maxime - Barnt Green
Pedantic and demanding... but a perfectionist is how I would describe Glyn Williams. Having already had a few driving lessons with a previous instructor, I was booked onto a Mid-Way Pass course, where I had nine two hour lessons with Glyn before taking the practical driving test. During these lessons I was taught how to become a good, and more importantly, a safe driver, and this has set me up for driving on the road in the future.
What I liked about the course was the way in which it was structured: key elements such as the manouevres, driving on dual carriageways and emergency stops were addressed during different lessons, and I was also provided with an accompanying CD for my laptop, which reinforced what Glyn taught me, and which was especially useful when preparing for the Theory exam. Another bonus for me was the flexibility of Glyn's schedule, and therefore how it was easy for me to book lessons every week at convenient times in the run up to the practical exam, which he also booked for me. Going into the practical driving test I felt prepared, and my first time pass itself is evidence of Glyn's teaching ability.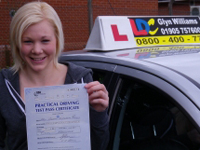 Jordan - Ladywood, Droitwich
Learning to drive with Glyn was a very quick and enjoyable process. The LD System was very helpful and effective because you already knew what to do before actually doing it in the car due to the book. Glyn is very patient and willing to help in any way he can. He taught me from the start up to taking my test which I passed first time.
Thank you for teaching me Glyn. I enjoyed it more than I expected!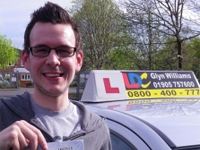 Ben - St.John's, Worcester
Before starting my lessons with LDC I was a complete novice with no previous driving experience. From day one Glyn put me at ease, and before I knew it, I was driving quite confidently on the roads. I really recommend Glyn's tuition, as even when I found it difficult he was very reassuring and his knowledge and experience set me straight. He has a lot of patience, especially when I was struggling with a few manoeuvres and encouraged me to be a better driver. If you are looking for an instructor in the Worcester/Droitwich area, then look no further! Thanks Glyn!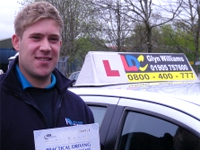 James - Droitwich Spa
I had three driving instructors before I met Glyn and wish I'd met him first! Glyn assessed my abilities before advising me on the number of lessons needed and he got it spot on - passed my test this morning! His LD System of learning to drive was superb and he was patient and really skilled at getting me driving safely and confidently. If you want to learn to drive, call Glyn!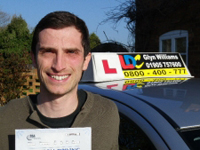 Mike - Droitwich Spa
I thoroughly enjoyed my driving experience with Glyn and I would recommend hi services to anyone wanting to learn. I found Glyn to be a patient and encouraging instructor who promotes progressive but safe driving.. I was a complete novice when I initially started my lessons with Glyn but he has helped to transform me into a confident and safe driver.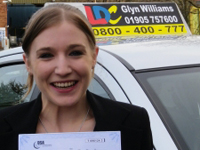 Anna - Droitwich Spa
Thank you so very much for all your help, support and patience Glyn, I'm chuffed to bits. I took the semi-intensive, LDC driving course which itself is very comprehensive and well structured, however, without Glyn's knowledge, experience and patience I feel it would have been a lot more difficult. On a couple of occassions (usually during manouevres) I found myself getting very upset and flustered when things weren't going 'right' and Glyn was very supportive and patient with me. Each lesson was carefully thought about & planned and I felt that Glyn personalised the lessons to meet my needs and ultimately pass my driving test. I am hoping to take my Pass Plus with Glyn very soon and I recommend Glyn to anyone who wants to learn to drive. Thank you. Anna"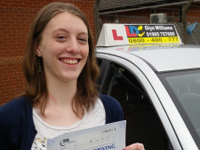 Rebecca - Caerphilly
I had previously had some driving lessons in Cardiff with another LDC instructor, but transferred to Glyn (LDC Worcester) shortly after I started at Worcester University. This meant that I had to get used to a different instructor and a different car, but Glyn helped make this a smooth transition. Glyn has always maintained a friendly but professional and precise manner allowing me to grow in confidence lesson by lesson. Glyn has also been very adaptable, allowing me to easily fit driving lessons around my lectures and always takes time to discuss situations that have arisen during the lesson.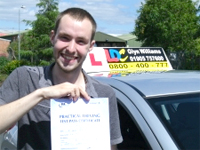 Darren - Worcester
I did the 1 Week Pass Course with Glyn which was well planned in advance. The Driving Skills Workbook and DVD's were really great to help me prepare - result! - first attempt passed!!! Glyn is really knowledgeable and brilliant at passing that on. Thanks Glyn and I have already referred you to a mate.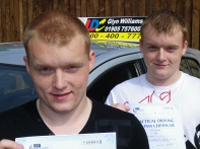 Tom & Dan - Redditch
We are really glad we chose the LDC System, found the DVDs and books easy to follow. Glyn was very patient with us and helped us build our confidence. He was also very prompt and reliable.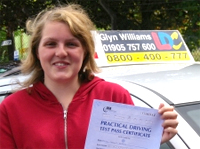 Kelly - Hanley Swan
LDC is a great company because of the resources they give you, e.g.: LDC Driving Skills DVD, Driving Skills Workbook, Theory Test Complete DVD and workbook and Hazard Perception Test Extra. All these resources help and get you prepared in advance whether it being your theory test or your practical test. Glyn taught me. He was very good at his job and helped me pass my theory when I was having driving lessons he would test me on signs so I would remember them. When I went on to do my practical test Glyn easily identified my faults and sorted my mistakes out, gave me great confidence to do forward planning and put me at ease. He supplies plenty of information so you understand all areas of driving. Thanks to Glyn, I have now passed my test.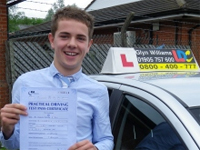 Charlie - Clent
I really enjoyed my experience with Glyn on the LDC course. I felt the system was very beneficial with the workbook and DVD being great help, especially in the early stages of learning to drive. It gave me more confidence with my driving because I felt I already knew the basic controls and was aware of other aspects of driving before even getting in the car. From there, I was already at a head start from the workbook, and lesson by lesson we covered the topics I had looked through before the lesson so that I wasn't completely unaware of what to expect and it also meant the stages of learning to drive were broken up into different sections, rather than trying to learn everything at once. It was a very enjoyable and beneficial experience which has made me a much more confident driver now I've passed my test.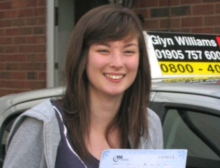 Megan - Redditch
The LD System, Workbook & DVD's were really good. My first instructor from another driving school wasn't very reliable and I lacked confidence - but then I started with Glyn. The lessons then became really good and I learnt much more quickly. I was amazed when I passed my test first time!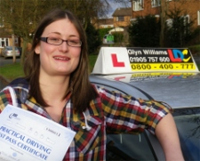 Sarah - Bromsgrove
I have found it very difficult to learn to drive as my nature is somewhat scatty at best, but Glyn has got me through my test. He provides friendly, structured and enjoyable lessons. However, he is a perfectionist and expects the best from his pupils; not that he expects perfection. This is not a bad quality in my opinion as it makes accomplished, confident and above all safe drivers. I know it is a well used cliché but if I can pass my test anybody can pass, believe me! Glyn is the man for the job. Thank you so much for your time, patience and resilience with learners like me. The best driving instructor you could hope for, with a great sense of humour. Kind regards Sarah xxxx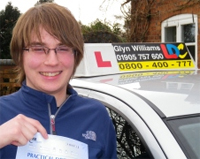 Chris - Droitwich Spa
Just passed my test - 1st.attempt! I started learning to drive with Glyn last June and despite having an equal hate and fear of the first few lessons, Glyn's competent and calm approach to teaching helped me to slowly progress and lose my dread of going out on the road. Glyn is a very good driver and an even better teacher and although at times I got very frustrated he was continually calm and reassuring all the way through my lessons. I would recommend Glyn to anyone as a driving instructor as no matter how badly you do he will never give up on you. Another thing I would recommend is the LDC Book and DVD's which have been a great help to me throughout my driving course.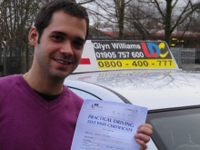 Gabor - Droitwich Spa
I am happy that I chose Glyn. He was great and patient driving instructor. The lessons were always planned and we were driving in all hours not just sitting in the car and speaking for a long. He picked me every times without problems. He was very friendly, I would recommend him to anyone else who want to drive. And also the LDC system book and DVDs were very helpful for me. It is a good planned system and easy to learn from it.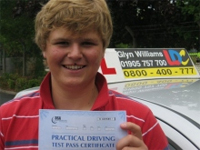 Tom - Harvington
"Glyn was a great driving instructor, he was prompt and was happy to pick me up wherever I asked for. I would strongly recommend Glyn as an instructor - he will teach you to drive in an accurate and precise way which will prepare you superbly for your test and for driving all through your life! Thanks Glyn!"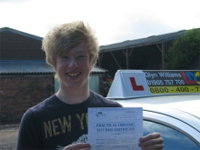 Alex - Martin Hussingtree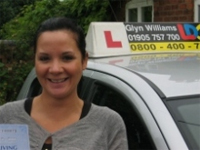 Nadine - Worcester
"I have recently passed my driving test with Glyn, I had been on and off learning to drive for the past 4 years, having over 3 different instructors. When I started with Glyn his method of teaching was so consistent it convinced me to stick with him as my driving instructor, and shortly after passed my test with only 2 minors, and now I'm planning on getting my first car. :) Thanks Glyn"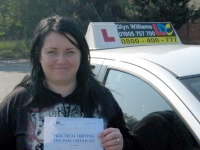 Vaida - Worcester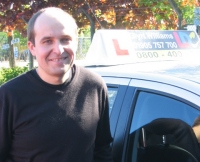 Dmitrij - Droitwich Spa
"Just as not every native speaker can make a good teacher of his/her mother tongue, so not every highly skilled driver can make a good driving instructor. Obviously, teaching is a very complex process, especially if you deal with people of different ages, backgrounds and capabilities. Beyond any doubt, Glyn is an excellent instructor with excellent teaching abilities. His lessons are always well planned and structured. He is very friendly, enthusiastic and conscientious person, who is always concerned about learners progress. Patience is another very important quality of Glyn. I would definitely recommend him to anyone else who wants to learn to drive."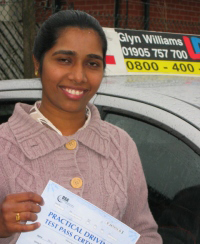 Manju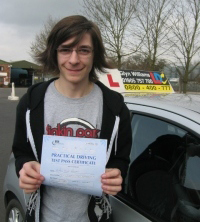 Alex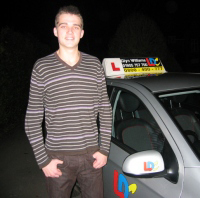 Ben - Droitwich Spa
First appearance is always important, and with Glyn it was very good, smart and also friendly to talk to. The planning of the first lesson and the subsequent lessons were very well organised. He gave very detailed information about himself, the company and how lessons would pan out up until the exam.
During the lessons, Glyn works with you. When he takes you out for the first time, he quickly assesses if you are a slower learner and guides you through; on the other hand if he sees that you learn quickly he will push for the two hours for each lesson. At the start of each lesson he goes through what you will do and makes sure you understand all before you set off. Glyn also does mock exams which gets you in the mind set and this also knocks the nerves out of your system for the exam day.
Overall Glyn is very easy to get on with, guides you through each process and never gets angry or impatient. I was very pleased with him as my instructor."
[Parents footnote]: "From a parents perspective, it has been quite obvious that Glyn immediately strikes a chord with the Learner. We had enormous confidence in his ability to teach our son - which was proved by his passing first time!"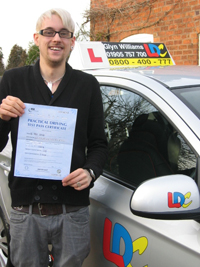 Arron - Droitwich Spa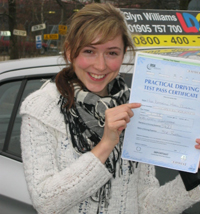 Katy - Malvern
"Thank you very much for all your support and encouragement, I am so pleased I passed! Glyn is an excellent instructor who tailors the lesson to the individual; giving you confidence and encouragement to successfully pass your test. I will ring the lady tomorrow about pass plus seminars, will let you know what she says."
Call today on 01905 757600 or 07979 960357 or Email me to find out more
If you have any questions or to book lessons today, feel free to contact me